A good custom home builder wants to know everything about your vision for your dream home. You probably have general ideas about how you want your dining room to look. However, your builder will want to know specifics in several key areas so that the builder can offer you suggestions that fit your needs, preferences, and lifestyle.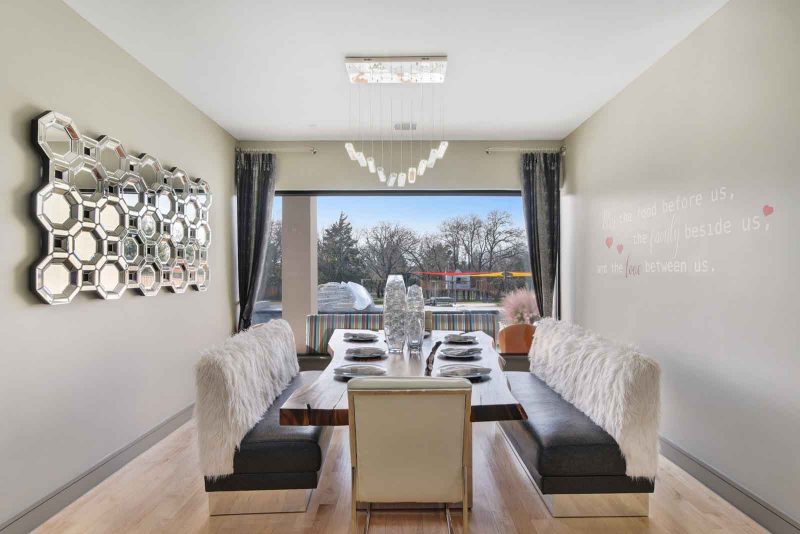 Function
Knowing how you plan to use your dining room is the first step. Function influences the space's size, your furniture selection, and where the room belongs in the layout.
Do you want a casual space for the family's daily meals and informal gatherings? Then the popular trend of having an eating area that's part of an open-concept space that also includes the living room and kitchen could be right for you. Perhaps you want a formal dining room that's strictly for entertaining guests on special occasions. You might be interested in a traditional separate dining room.
Furniture
Since the dining table is the focal point of most dining rooms, homeowners frequently have a type of table in mind. If you've already chosen a table or have pictures of tables you like, sharing this information will give your builder a clearer sense of the style, function, and size that's appropriate for your dining room.
Lighting
Bold, dramatic light fixtures known as statement lighting are another trend in today's dining rooms. Although you may choose to follow that trend, your builder can work with you to create unique lighting options that fit the overall design of the room and your home. For example, a homeowner may want a low-key light fixture above the dining table. Others choose to install wall sconces around the room.
Storage
Your builder will also want to know what you plan to store in the dining room. Does your vision include built-in storage or storing items in standalone furniture? Standalone furniture usually takes up more room, but it gives you more flexibility for how you might use the room in the future.
Rasor Custom Homes builds luxury custom homes in the Southern DFW area. Contact us to get a quote for your dining room or next project.