Before construction begins, a good custom home builder will discuss your needs and preferences for every area of the house. The walk-in closet for your master bedroom is no exception. Here are questions to consider prior to speaking to your builder about your master walk-in closet.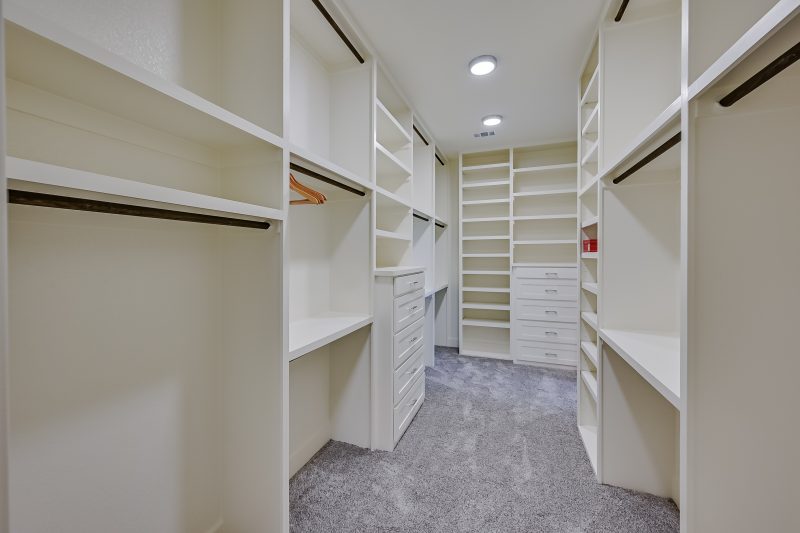 What Will You Store in the Closet?
What you plan to put in your master walk-in closet determines how large the space needs to be. The closet's contents also help your builder recommend appropriate configurations for the closet. For example, a homeowner who regularly wears business attire may want a built-in tie rack. While the possible features are far too numerous to list, clients may be interested in features such as:
Floor to ceiling open shelving for a large shoe collection
Custom shelving to accommodate handbags
Drawers designed specifically for small items like sunglasses, rings, or bracelets
Ample drawer space to eliminate the need for a bedroom dresser
Do You Have Preferences for Lighting?
Your builder will recommend a combination of ambient (general) and task lighting. While some homeowners see the master closet as a utilitarian space that needs no more than basic light fixtures, others want the lighting and the closet's overall look to match the home's style. Which type of homeowner are you? Also, if you've always dreamed of a master closet that's a luxury dressing room complete with an elegant chandelier, your builder needs to know your vision.
How Would You Like to Handle Counter Space?
Clients usually want their master closet to have built-in counter space. However, there are many ways to fulfill that request. Common ones include:
Counter space above built-in drawers
A custom island for counter space and storage
A built-in vanity
What Are Your Preferences for Seating?
Your builder will want to know if you prefer built-in seating or purchasing standalone seating. For interested clients, your builder can suggest built-in options like a window seat or a storage bench.
At Rasor Custom Homes, we always have a discovery meeting with our clients to learn their vision for the entire home. Contact us for additional information.